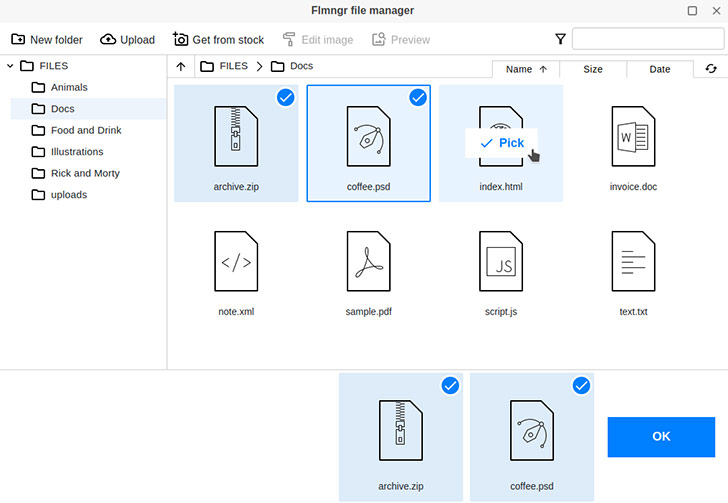 Select multiple non-image files with file manager
Sometimes you need to select not images, but some regular file - Word document, ZIP archive, PDF or other type of file.
Flmngr file manager has an acceptExtensions option to limit file extensions.
And of course after files were selected you can process them as you wish. In samples with a pictures we added selected files as images, but here in the final sample we show you how to insert them as links.
As usually initialize file manager getting flmngr instance object and call pickFiles() method:
flmngr

.pickFiles

({
  

isMultiple

: true,
  acceptExtensions: [

"zip"

, 

"psd"

, 

"html"

, 

"doc"

, 

"xml"

, 

"pdf"

, 

"js"

, 

"txt"

],
  onFinish: 

function(files)

 {
    for (var file of files)
      console.

log(file.url)

; 
  

}


});

CodePen example
Demo
HTML
JavaScript
CSS
Play in CodePen
<

div

 

style

=

"display:none"

>
  <

div

 

id

=

"editor"

></

div

>
</

div

>

<

h1

 

class

=

"h5 mb-3"

>Flmngr file manager: select multiple non-image files</

h1

>

<

p

>Note: such files can be found in "Docs" folder</

p

>

<

div

 

id

=

"btn"

 

class

=

"btn btn-primary"

 

style

=

"opacity:0.2;cursor:default"

>Select files...</

div

>
<

div

 

id

=

"loading"

 

style

=

"font-size:12px"

>Loading file manager...</

div

>

<

h2

 

class

=

"h5 mt-5"

>Selected files</

h2

>
<

div

 

id

=

"files"

>
  No files selected yet.
</

div

>

<

script

 

src

=

"https://cloud.flmngr.com/cdn/FLMNFLMN/flmngr.js"

></

script

>
<

script

 

src

=

"https://cloud.flmngr.com/cdn/FLMNFLMN/imgpen.js"

></

script

>
window.onFlmngrAndImgPenLoaded = 

function

() {

  

var

 elBtn = document.getElementById(

"btn"

);

  1;
  elBtn.style.cursor = "pointer";
  var elLoading = document.getElementById("loading");
  elLoading.parentElement.removeChild(elLoading);

  // Add a listener for selecting files
  elBtn.addEventListener("click", function() {
    selectFiles();
  });
}

function selectFiles() {
  let flmngr = window.flmngr.create({
    urlFileManager: 'https://fm.n1ed.com/fileManager',
    urlFiles: 'https://fm.n1ed.com/files'
  });
  flmngr.pickFiles({
    isMultiple: true,
    acceptExtensions: ["zip", "psd", "html", "doc", "xml", "pdf", "js", "txt"],
    onFinish: function(files) {
      showSelectedFiles(files);
    }
  });
}

function showSelectedFiles(files) {
  let elFiles = document.getElementById("files");
  elFiles.innerHTML = "";

  for (var file of files) {
    let elA = document.createElement("a");
    elA.href = file.url;
    elA.textContent = file.url;
    elFiles.appendChild(elA);
  }

}
body {
  padding: 20px;
  background-color: #F4F4F4;
}

a {
  display: block;
  margin: 10px 0;
}